The must to be known fact about WordPress is that it is the largest content management platform.
However, it's not an enough big reason you should be using WordPress too.
Actually, a few questions will cross your mind. Questions like…
Why WordPress is so popular? Why people prefer it so much?
People have so many options, but why every fourth website created, is on WordPress?
Does it have any limitations that you may not be aware of?
And most important, is it good enough to be your final choice?
Okay, Let's figure out…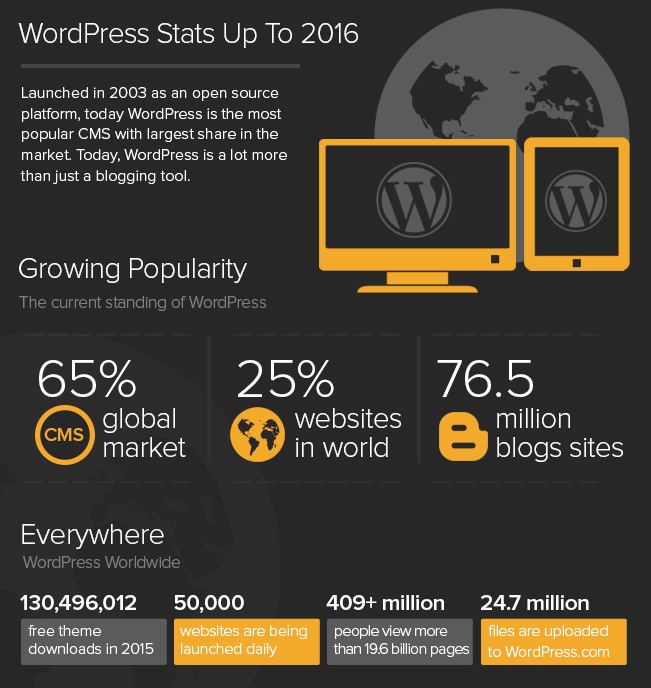 Why #1. WordPress Is Free & Open Source
WordPress is an open source software – free to use, edit and redistribute. That's why you can easily find its original source codes publicly available.
WordPress software is completely free and comes with unlimited validity. You can download it from its official website.
By the way, all hosting companies generally provide one-click installation facility of WordPress. Ask it before you buy hosting.
Why #2. Create Any Website With WordPress
Today, WordPress is more than a blog publishing platform. It has a lot of versatility and gives you full flexibility to create any type of website.
Wide range of themes and plugins increase its functionality to a great extent.
That's why you can create any kind of website using WordPress. Such as:
An eCommerce Website
Several eCommerce themes are offered by the theme companies. You can create a very professional eCommerce website using a theme.
For example – SaleJunction theme. You can sell digital or tangible products easily using this theme.
WordPress is powered by eCommerce plugins like WooCommerce and WP eCommerce that make WordPress a complete eCommerce solution.
A Membership Website
WordPress is also quite good for supporting membership website.
One can sell subscriptions of any premium service or digital products that he has.
Using Subsribely theme one can easily create a membership site.
It allows you to add multiple users with different permission such as: administrator, author, editor, contributor and subscriber.
Almost all form of websites possible…
An eCommerce website like eBay or Alibaba.
A Blog like Mashable or TechCrunch.
A Video Website like YouTube or Vimeo.
A Service/Appointment Booking Website.
A Photography Website like Flickr.com.
A Directory Website like YellowPages or Yelp.
A Classified Ads Listing Website like OLX.
A Membership Website like Udemy.
A Question Answer Forum like Quora.com.
A Knowledgebase/Wiki website.
Why #3. WordPress Is 99 % SEO Friendly [Acc. to Google]
Google and all search engines show and rank websites in search results on the basis of various predefined parameters.
The more parameters you fulfill, the better your website ranks in search results.
Good news is that WordPress takes all the SEO responsibilities that a CMS is supposed to fulfill.
Much better, there are various SEO plugins available to help improve search engine visibility of your WP website.

Some Crucial CMS Validity Requirements:
Fast Loading Speed: The loading speed of a website is also influenced by your CMS. That's why wordpress is already optimized for good speed.
Good Coding Standard: You can imagine how advanced it will be as its new versions are introduced in every few months since 2003 when it came. Expert developers are there to take care of it.
XML Sitemap: Easily generate and submit sitemap to search engines. It helps them recognize the structure of your site content.
Navigation: In WordPress navigation becomes very robust with menus, drop down menu functionality, tags, categories, and tons of widgets provided in WordPress.
Image Optimization: Adding Title & Alt Tags in images takes no time. So you don't feel any burden to optimize your images for good ranking of your post/page.
Social Media Integration: Search engines give importance to sites getting good traffic from social networking sites. That's why WordPress supports social media integration.
User Experience: WordPress is fully optimized to work good on multiple devices, browsers, and systems. In fact, themes coming in are are also fully responsive.
Why #4. WordPress Is Easy to Use
WordPress is growing fast and one of the main reason is it's easy. If you still feel hard to use. Follow our video tutorials.
InkThemes covers WordPress Tutorial articles from start to end.
Just a one-click installation and WP is ready for use.
There are inbuilt facilities for blog publishing, user management, comments, RSS feeds, revisions and much more.
Once installed, you can start creating and publishing blogs and pages, and making custom configurations without any coding.
Why #5. WordPress Is Easy To Customize
It's possible to customize colors, design, and even features of a WordPress theme.
Doesn't matter you are a developer or not. Customizing your website through coding in not mandatory.
Customizing Through Panel:
All settings are provided in a control panel under WP dashboard.
The dashboard is quite user-friendly simple interface makes it possible to customize most of the elements of your website in an easy manner.
Customizing Via Codes:
Alternatively, if you are a coding expert, you can customize a theme by editing its codes.
For those who are new to CMS, it may seem difficult. However, on spending some time with child theme and the style.css file, you will learn to play with customization.
Why #6. Large Community Helps In Troubleshooting
WordPress has a massive community of active users and developers.
Its well-maintained support forum contains millions of queries and solutions to troubleshoot problems.
You can also search for your query to get previously answered question. Post your questions unhesitatingly, and you'll get a 100% valid solution.
Apart from its official forum, there are number of other WordPress dedicated forums run by developers where one can ask queries and get solutions.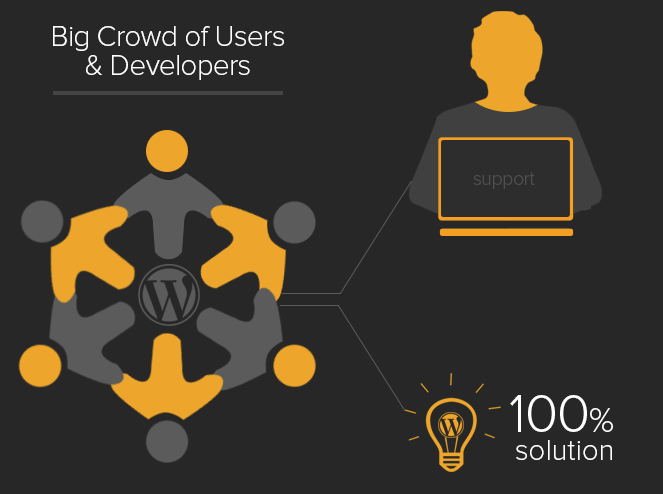 Why #7. WordPress Is Secure Enough
WordPress has a high-security standard.
But since 23% of the websites on internet are built on it, hackers continuously try to find loopholes in WordPress to get into sites built on it.
But not to worry. Regular updates provided by WordPress strongly protect you from this vulnerability.
Regularly updating your WordPress version is quite effective to fight this vulnerability point.
In fact, website hacking mostly takes place due to lack of knowledge and awareness in users.
By following some general security methods for WordPress, your website can be made super safe.
Just remember these points:
Use basic security tools – WP Security & Firewall And Wordfence Security.
Download plugins from WordPress.org only.
Use recently updated plugins.
Check plugin rating and no. of downloads.

Download plugins from trusted sources.

Update WordPress with its recent version.
Use a premium theme. Free themes may contain malicious codes and encrypted links.
So if you were keeping away from WordPress from the website security viewpoint, that's no more a valid point.
Why #8. WordPress Supports Multimedia
WordPress has very rich text editor i.e WYSIWYG. It supports easy insertion of images, video, audio in blog post. we can insert any media files in our content within a single click,  users mostly engage with images, videos or audios in webpages.
Add anything from a high-resolution image or video to support what you have written. It's not only easy to upload these files but you can also edit them easily.
Why #9. It Is Easily Integrated With Any Service/Application
Default WordPress has a lot of inbuilt functionality but you can even make it more powerful with plugins.
When you install Plugins, it will add extra functionality in your WordPress website. Some plugin and free and other are premium. There are around 41000+ plugins available at WordPress repository.
There are lots of functions that can be easily integrated with WordPress.
1. Contact Form – Contact Form is among the basic requirements for any website. Contact Form 7 is the most recommended plugin for WordPress. However, there are several limitation with it. You can not collecting payments with it, if you have multiple website then you have to install it on each website and manage then individually.
So as a better alternative to contact form 7, you can use FormGet Contact Form Plugin. FormGet is easy to configure, you can collect online payments with it, see all entries collected from your multiple websites in a single dashboard, and much more..
2. Email Marketing – Email Marketing is one of the most important feature to get intact with your customers. With email marketing service integration, emails collected through your website get automatically added to your mailing list.
You can take a look at MailGet – Email Marketing Service. It is easy to integrate with WordPress.
Why #10. It's Getting Exponentially Better
Being the large and most effective community, WordPress is evolving day by day to improve its user friendly interface and features. With the passage of time, WordPress enhances its system every time with the latest version.   
Apart from the blogs, Business WordPress websites has increased dramatically and in near future, we may see various enhancements like:
More optimized SEO features, large amount of WordPress user, extended & convenient dashboard and much more.
Overall WordPress is nice CMS to adopt for your next business website. We highly recommend to use it. Do share your thoughts with us in the comments below, it will be helpful for entire community.